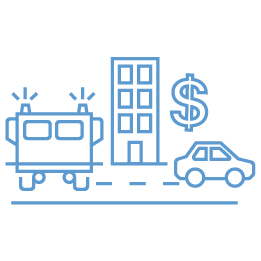 Viva Asset Management
Management Made Easy: Viva Civic Software makes it easy for you to manage organization assets. Viva provides a holistic view of assets history with their values, maintenance requirements and current statuses. That's not all as you also can initiate maintenance, repairs, and replacements on them all through one central system with highly automated features.
Viva Asset Management comes with built-in work-order issuance and tracking system. Your contractors can communicate and conduct business with you using their personalized portal system, a feature that not only saves time and cost but also adds to the accountability of the project.
What's more, assets can be located by their physical location as you can tag them on your mapping system. After doing this, you can assign them a unique identification code, enter any defining attributes, take pictures and start a digital folder that would track any actions on them from that day onward. You can also import historical information on the go as needed.
Fleet management is equally powerful and provides you with complete transparency of services and maintenance history of the software. With Viva Asset Management you get to:
Gain control and visibility over your assets
Viva's simple yet powerful asset registry allows you to conduct inventory quickly
Mark locations of the assets on the maps using GPS features of your mobile phone
Customize Asset's Lifecycle Management
Initiate service orders and track progress
Build your Depreciation Calculation Schema and Financial Asset Management
Harness the power of Bar-coding, tag once and have it in your inventory forever
Build you maintenance and service plan
Email alerts on key events
Get your Asset Performance Reports with Key indicators
Transparency on asset's inventory by type, age, and upcoming services reports
Get detailed and aggregated cost reports