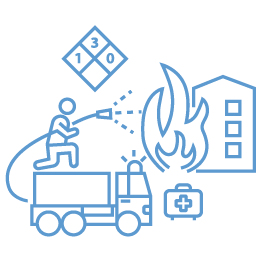 Viva Fire
Realize the full potential of your staff by freeing them from mundane task. Viva Civic Software will be your partner in achieving this goal. We at Viva will model our Fire module in accordance to your business practices. This is how we do it:
1) Viva automates those tasks does not require staff decision such project intake, routing, noticing, fee calculations, filing and archiving, documenting events and action letter generation, etc.
2) We give the manager tools to lead and manage, plan and act proactively and with solid information. You can use dashboard indicators, reports and matrices to assess workload, estimate demands and assign work to staff in accordance to their backlog and availability.
3) Viva flexible platform facilitates provides for multi-discipline responses and aligns organizational efforts to achieve team success.
4) Viva user friendly intelligently engages staff in the office or in the field to provide knowledge based decision in their daily task being review of plans, inspection and or responding to a service call. Your team will cherish the clarity and availability of information that Viva offers from everywhere and around the clock.
What's more…… let customer help you with your workload, this is how:
Online Permitting and Civic Access
Viva Civic Access allows your customer all of these following tasks, 24 x 7 from everywhere, all year around:
Submit permit applications, submit plans and design documents
Request inspections
Check status of their project and inspection and comments correction
Get informed on upcoming inspection
Submit field revisions online
Benefits at a glance:
Easy to use,  to engage all your team to effectively use the software
Viva Citizen Access portal allows customer to do many tasks freeing your staff
Hosted system, open for business 24 x 7, all year round
Multi-agency collaboration at no additional cost foster communication and streamlining
Customized workflow  to automate repeat task
Powerful performance and workload indicators on dashboard
Integrated mapping and GIS
Mobile  access with built in damage assessment surveying tools
Built-in document management allows your operation goes paperless
Digital filing of the building plans to make informed emergency responses
Complete HMMP life cycle, with ability to tack hazardous material inventory adjustment
Integrated timesheet to capture resources allocation and dynamic cost recovery
Cost effective that allows you to get Viva without any RFP and go live in 60 days
Built-in Mobil, available from everywhere.
Cloud based, high availability
Secure and safe with multi-layer security features